Our market adventure started back in 1991 and lead to our current position as leading transport and logistics operator.
Our goal is to provide state-of-the-art and customer-focused solutions in the TFL industry. We are able to arrange complete supply chains and "just in time" deliveries and special transports. While planning distribution networks we try to make the distribution chains as short as possible, which translates into cost optimization.
We are not afraid of any challenging assignments, including transportation of intricate plant and machinery where special care and top safety standards are a must. You can spot our orange-coloured articulated lorries all over Europe.
Backed by experience and strenght of the SKAT Group, we are able to handle any order!
We participate in all steps of planning and implementation of transport and take full responsibility for what we do.
We have been on transport market for 30 years. We got lots of experience transporting variety of cargo in multiple countries. We have all necessary permits required within the EU.
Experienced pilots provide professional escort of special loads transported by us.
The specialized fleet allows us to adapt to the expectations of any customer.




SEMI LOW LOADER – 4 + 6 AXLE 


VARIO TRAILER – 4 + 2 + 4 AXLE 
Clients from all over the European Union as well as from non-member countries have placed their trust in us. Currently, we most often serve countries such as:
Germany
Great Britain
Poland
Belgium
Netherlands
France
Czech Republic
Sweden
Lithuania
Italy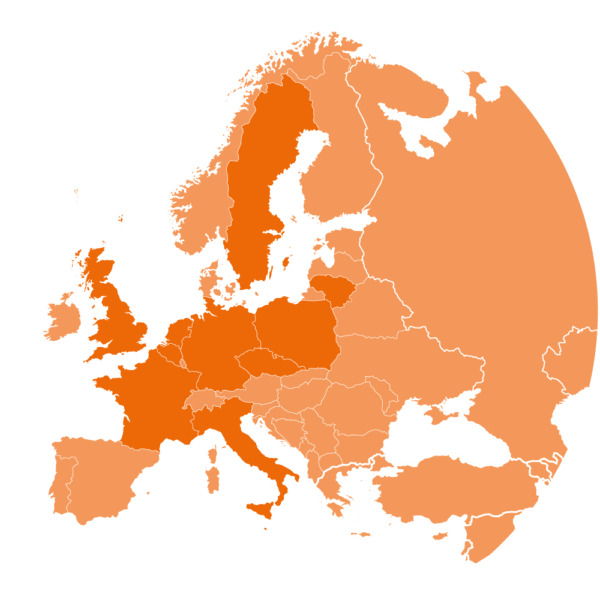 250 employees
SKAT clients receive a dedicated account manager and a specialized operational team. We communicate in the language of our clients, without creating unnecessary barriers.
Own fleet
We have a fleet of 150 truck-tractors and semi-trailers.
We ensure the availability of truck-tractors and semi-trailers worthy of the expectations of our clients.
We handle oversize and ADR orders.
Cutting-edge technologies
Our own programming department takes care of minimizing costs and shortening the time of service delivery by implementing the latest IT solutions.